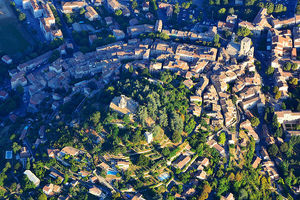 -> LISTENING THE STREAM
website
more information on Locus Sonus Laboratory
Sounding horizon, and beyond
Ludovic Landolt
Start: 01/05 14:30 UTC+1
Forcalquier, France
stream from the provencal carillon of the Citadel of Forcalquier
For Soundcamp 2021, and in parallel to Radio Reveil project, I will propose an audio stream, on the top of the Citadel of Forcalquier, where the last carillon in Provence is already based.

At the top of the hill, we will work with an old-fashioned way of play, with closed hands, who giving the sounds of the bells an exceptional musical dimension, usually stifled by the electrification of the mechanics. The ringing chamber is opened on one level, to be able to see the carillonneur playing, like a transparent sonic window at the highest point in the landscape. Thus, the project can be listened like a response to Forcalquier's motto: Pus aut que leis Aups! / Higher than the Alps!.
Performance Timeline
14:30 - 15:00 (UTC+1) - A member of the Guild of Carillonneurs de France will play music, from a traditional repertoire of Provence and Occitanie.
15:00 - 15:30 (UTC+1) - A free improvisation will be broadcast by myself, to listen the Carillon of Forcalquier, in several places around the fill, the town and beyond!