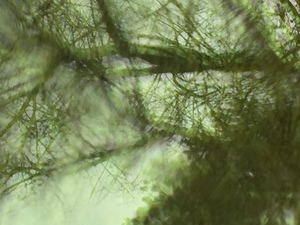 Esther Salmona-Queervoice
Esther Salmona-PZ
Queervoice
Esther Salmona
Start: 02/05 04:30 UTC+1
Hameau Les Magnans, village of Pierrerue, Natural Regional Parc of Lubéron, South of France
For Reveil i'll try to research what's streams are (i have been doing that for a while). I'll use sort of echoes in real time : listening several streams, improvisation with voice and words during walking, trying to create some sound geological operations.
Here is a description of the PZ project and links :
PZ is a transversal work on listening and what can be produced from it. Attached and resulting from the Accoustic Commons project, PZ chooses places and installs a device for listening and producing text, images and sounds. PZ wants to be a hub and a place of testing to understand a form of sound ecology, like a « zero point », a permanent restart : place of ignorance always able to be crossed, where deposits and depositions, sedimentations are as many 'primers, wicks for the fictions to come.

https://sthene.blogspot.com/
https://audioblog.arteradio.com/blog/159725/pz-point-zero

The "Magnans" Soundcamp is a way to magnetise and intensifie PZ.