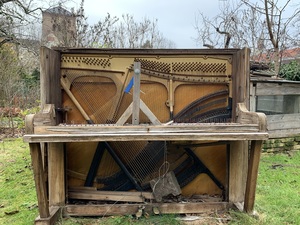 belábobbfelicekubotakuhnleroyreeserolezvoelter-Rural Development extd
Belá Bobb Kubota Leroy-Art's Birthday 2021
Rural Development extd
Gívan Belá, Geza Bobb, Jennifer de Felice, Akihiro Kubota, Marco Kuhn, Dominique Leroy, Kirsten Reese, Jef Rolez, Bettina Voelter
Start: 01/05 20:48 UTC+1
Arendsee tiny house; Berlin inner city allotment garden; Hranice Vysočina; Kerminy en Bretagne; Tokyo
A rotting piano collects the sounds of dawn, streams from befriended locations come and go.
A cello and kontrabas attempt a conversation with birds, solenoids are triggered by twilight hitting worn-down-piano and oil-can-slide-guitar strings, a chapel in ruins, a cowhouse visited by the first swallows of spring, distant spectra from sdr while more streams from distant locations come closer and become here. What about the chicken and the sheep?
The sonic caretakers monitor their local processes, add scarce actions to them, attempt to navigate their sounds into subharmony with the parallel streams from the others.
The online band Rural Development is playing several sessions. May 1st some are streaming at 21:48pm CET with the sunrise in Tokyo, continuing on Sunday with central european sunrises from Hranice Vysočina at 05:32 and from Berlin and Arendsee at 05:35, ending with the Kerminy Bretagne far west sunrise at 06:56.