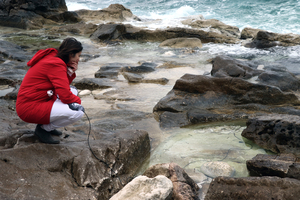 Manja Ristić-Water
Water (20'00'')
Manja Ristić
Start: 01/05 18:45 UTC+1
Island Korčula, old open-air quarry Lenga, Croatia
Manja Ristić: Water (20'00''), Island Korčula, old open-air quarry Lenga, Croatia
Water is an eclectic and unsettling meditation on metamorphosis & suspension.
Body of water in constant motion,
in symbolical representation of syncopation of the Time,
never repeats itself.
The quarry Lenga has explicit traces of stone exploitation, flat plates, pools, vertical cuts, geological layering, and traces of block cutting. But today the site is deeply immersed in the wild Adriatic flora and fauna. Many cuts and crevices provide unique acoustic geometries for the soundscape defined by an infinite orchestration of the sea movement.
I have been listening to this site, from its most hidden corners, for many years. For this occasion, I made a couple of hydrophone and field recordings that are a focal point of the work which inspired me deeply to contemplate the intensity of our psychological dynamics in times of pandemic despair and uncertainty. With this effort I am encountering the memory of the place through immersing myself in the heavily traumatized landscape that paid the price for human structural and cultural development. Enjoying the regeneration and biodiversity expansion in the fading reverberations of prolonged destruction.
Manja Ristić is a violinist, sound artist, published poet, curator and researcher. Other than contemporary performance in instrumental electroacoustic music, Manja's sound research is focused on the interdisciplinary approach to sound and field recording as well as experimental radio arts. She works and lives on the island of Korčula, Croatia.