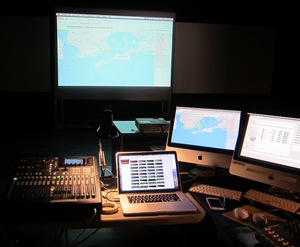 Workshop & Performance: Collaborative music-making with globally distributed musicians
FLO (Nela Brown, Magdalena Chudy & Maria Mannone)
Start: 01/05 08:00 UTC+1
Sea Organ (Morske Orgulje), Zadar, Croatia
Join Nela Brown, Magdalena Chudy and Maria Mannone from FLO for a 60-minute 'online' workshop and find out more about the software and hardware they used to perform at 'Reveil – SC8 Off Grid'.

We will talk about the opportunities for cross-cultural collaboration and artistic experimentation afforded by the use of the network, the issues associated with networked performance (latency, real-time monitoring etc.) and how these issues can be resolved and/or utilised as part of the composition/ performance. We will also look at some of the challenges of using acoustic instruments, laptops and mobile phones in remote music collaboration.

At the end of the workshop (if everyone is set to go!) we will do a short performance.
Start time: 8.00am (UK time)
Workshop duration: 1 hour