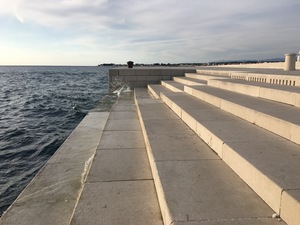 FLO-Zadar Telematic Sessions #2 For Cello, Piano and the Sea Organ
Zadar Telematic Sessions: #2 For Cello, Piano and the Sea Organ
FLO (Nela Brown, Magdalena Chudy & Maria Mannone)
Start: 01/05 07:00 UTC+1
Sea Organ (Morske Orgulje), Zadar, Croatia
A telematic performance in which binaural soundscapes from the Sea Organ (Zadar, Croatia) are streamed live to Warsaw (Poland) and Venice (Italy), to inspire an improvised dialogue between cello and piano.
FLO ensemble, established in 2014 by Nela Brown, connects female musicians, composers, sound artists, dancers, visual artists, engineers and scientists globally, through co-located and distributed collaborative music creation. Each FLO performance is site-specific and performer-dependant, mixing location-based field recordings, live coding, acoustic instruments, voice, sound synthesis, real-time sound processing using Web Audio API's and VR environments with audiovisual streams arriving from different global locations (via the internet and mobile networks). From stereo to immersive 3D audio (and everything in between), FLO is pushing the boundaries of technology and experimentation within the context of ensemble improvisation and telematic collaboration.
During the pandemic, Nela Brown (sound artist/ technologist), Magdalena Chudy (cellist/engineer) and Maria Mannone (composer/physicist) from FLO, started experimenting with different platforms for 'network based' collaborative music-making. This resulted in a series of works called 'Zadar Telematic Sessions'. The stereo effects and digital augmentation of classical instrumentation enable traditional sonorities to melt with the 3D sounds of nature. This work is best experienced using headphones.