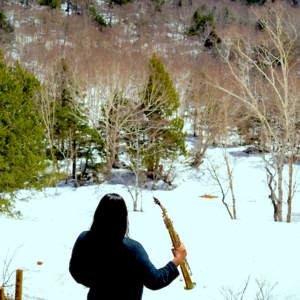 Cyberforest- #otanomo Live Sound Streaming
A Chat with a Forest
Maimi W. NAKAMURA
Start: 30/04 21:30 UTC+1
Shinshu University Nature Education Garden, Yamanouchi, Nagano, Japan
A short improvisation on soprano saxophone responding to the surrounding forest sounds.
Japanese saxophonist Maimi will have a chat on saxophone with the forests of Shiga Highland designated a Biosphere Reserve by UNESCO in her native Nagano Prefecture.
This program has no definite beginning and end. This is because the forest is always ticking its time. She will be a guest in the eternal flow of time, listen to its voice, talk a little from her, and then quietly leave.

* This project is conducted in partnership with Cyberforest (The University of Tokyo) and the Institute of Nature Education in Shiga Heights (Shinshu University).