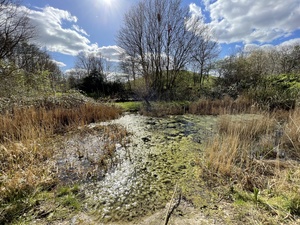 ALLUVIAL SOUNDINGS
Blanc Sceol (Stephen Shiell & Hannah White) x Margarida Mendes
Start: 30/04 16:00 UTC+1
Stave hill Ecological Park
Sound guides us to co-create an acknowledgment of the interconnectedness of water systems. A listening circle at Stave Hill Park will create space for mending and restoration, invoking deep time riffles in ancestral waters.



All are welcome to join Alluvial Soundings, all that's needed is a willingness to participate in its three moments:
Saturday 4 - 6pm
Shaping the Riverbed - co-creating the foundations and setting the space for the evening listening circle
Saturday 9.00 - 10.00pm
Liminal Opening - evening invocation of the internal waters


Sunday 5.30 - 6.30am
Merging Flows - sharing sounds and acknowledgments

Our practice is connected with the restoration of river flows and the conservation of riverine water systems, through pedagogical formats, artistic explorations, rituals and actions. These are supported by sensorial exercises and alternative modes of listening, to attune to elemental matter and its phases of transition. Searching for the course of underground rivers, and sunken docklands, we sound our way into the hydric systems that intersect the deep temporal stratas of the cities that envelop us, searching for the liminal dimension of aquatic flows. How can we develop more integral modes of deep listening that raise awareness to the aquatic streams of our planet, while honoring its fruits with gestures of reverence and reciprocity? During this three-part ritual, we will engage with the ecosystem of the Stave Hill park pond through multiple actions, building a portal for imaginary sounds to arrive, between sunset and sunrise, summoning the internal and underground waters through sonic invocations and shared gestures, listening in for messages of guidance.