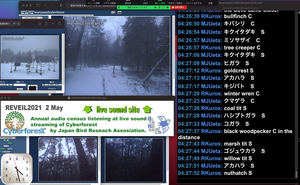 Cyberforest Audio Census
Kazuhiko W. NAKAMURA, Akio FUJIWARA and Yasushi SUKO (Cyberforest, University of Tokyo) with ornithologists Reiko KUROSAWA and Mutsuyuki UETA (Japan Bird Research Association)
Start: 30/04 21:00 UTC+1
University of Tokyo Chichibu Forest, Chichibu, Saitama, Japan
Join ornithologists counting birds by ear on the live microphone network by Cyberforest, the University of Tokyo.
The annual Cyberforest audio census runs from 1st April to 30th June. Now in its eleventh year, it carries out counts of birds by ear using remote microphones.
This year, we will demonstrate audio census using audio streaming from the University of Tokyo Chichibu Forest via a Zoom webinar.
Please click on the link below to join the webinar:
https://u-tokyo-ac-jp.zoom.us/j/83063763277?pwd=UlFuMk92WGordlNpUlpjaGhUMWY1dz09
Webinar ID: 830 6376 3277
Passcode: 600119