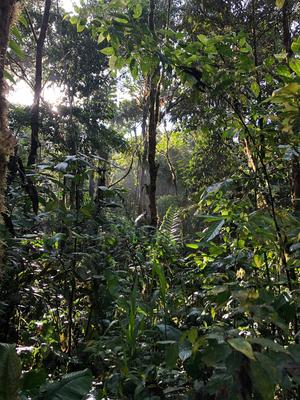 Morning song at Milpe - Maria José Guerrero
Milpe Bird Sanctuary
Paola Moscoso, Josep Navarro and Alice Eldridge in association with Mindo Cloudforest Foundation
Latitude: +0.030545°
Longitude: -78.866467°
This is an Ecuadorian Chocó-Andean foothills reserve located in the Andean Chocó Biosphere reserve and in Birdlife International defined Important Bird Area Los Bancos-Milpe.
Milpe has 100 hectares of forest (247 acres) and is located between 1020-1150m of altitud (3350-3770 ft). Birding guides consider this one of the finest sites in all of Ecuador and many of the most spectacular Chocó Endemics occur here. Other iconic species occuring at the Andean Chocó Biosphere reserve are the spectacle bear, the cock of the rock, the black-breasted puffleg, ocelots, and countless other insects, amphibians and reptiles.

The Andean Chocó reserve is one of the areas with the greatest ecological relevance in the country because it has has the influence of the Andes and the Pacific basin, which creates a Hotspot of biodiversity. This reserve is also a considerable source of potable water, agricultural production and even provides surrounding urban areas with electricity. Around 880,000 people live within the Andean Chocó region.

Thanks to big effort and work of local communities and organizations, this area was recognized as a Biosphere Reserve by the UNESCO in 2018.

We thank the Sussex Humanities Lab for their for generous support and the Mindo Cloudforest Foundation for joining this initiative.