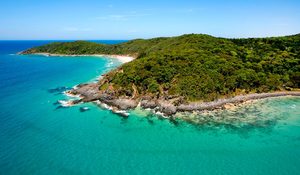 Noosa Biosphere Reserve, Queensland, Australia
Leah Barclay, Biosphere Soundscapes
Latitude: +26.143628°
Longitude: +152.996474°
Biosphere Soundscapes is a large-scale interdisciplinary research project underpinned by the creative possibilities of acoustic ecology and rapidly emerging fields of biology exploring environmental patterns and changes through sound. This project is designed to inspire communities across the world to listen to the environment and explore the value of sound as a measure for environmental health in UNESCO biosphere reserves. Our stream for REVEIL 2017 is from the Noosa Biosphere Reserve in Queensland, Australia.
www.biospheresoundscapes.org
Noosa Biosphere Reserve was designated by UNESCO in 2007 and was the first biosphere reserve recognised in the state of Queensland. The biosphere reserve is home to over 44% of Australia's bird species, 1,365 species of plants, 711 species of native fauna and 60 distinct ecosystems. The biosphere reserve is recognised globally for its rich biodiversity and dynamic approaches to sustainability and community engagement.

Noosa Biosphere Reserve is located in the Macpherson-Macleay overlap, where tropical and temperate zones overlap. The landscape has an extensive composition of rainforests, beaches, woodlands, wetlands, lakes, rivers, forests, and mountains. The Noosa region provides an extremely accommodating landscape for both flora and fauna due to its location in the intersection of the Torresian and Bassian biogeographic regions. It is a major centre of species richness and endemism, supporting speciation and biodiversity.