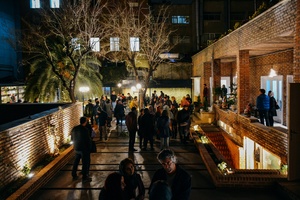 Rooberoo Mansion
Atefeh Khas & Omid Dolatkhah
Latitude: +35.6892°
Longitude: +51.3890°
Rooberoo Mansion, Vali-asr District, central Tehran
Rooberoo Mansion is a cultural hub founded in 2016 under the supervision of Hooman Memaarpanahi located in Tehran, Iran. Established in one of the oldest mansions in the Vali-asr District in central Tehran, Rooberoo Mansion is active in the fields of visual, performing and Musical arts . It is dedicated to creating a space for artists from all over the world to perform and interact with each other and to provide a working space for cross-cultural experiences to take place. With the goal of activities in the field of contemporary art, it also focuses a lot of attention on education and international relations.
The mansion's space includes a Gallery , a performing arts platform, a bookstore, a local handicraft shop and a rooftop cafe which gives the visitors a chance to spend more time in the mansion's atmosphere.
The name ''Rooberoo'' translates into ''face to face", because the Mansion is based on the belief that it is important for artists from all over the world with different cultures to interact and dialogue with each other, in hopes of evolving and creating a better future.