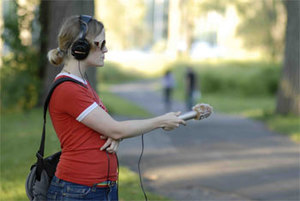 Warbler's Roost, South River, 6 am, May 2, 2015 - New Adventures in Sound Art
Warbler's Roost, 3785-D Eagle Lake Drive, South River, P0A 1X0, Canada
New Adventures in Sound Art - NAISA Radio
Latitude: ++45.82330° °
Longitude: -79.581205°°
NAISA Radio includes a 24 hour soundscape broadcast from the countryside at Warbler's Roost in South River, Canada during International Dawn Chorus Day starting at dawn on May 5. The broadcast is part of the Sound Camp workshop intensive which includes artist talks, hands on workshops and a dawn chorus soundwalk.
After the stillness of winter, springtime in the Almaguin Highlands awakens the ears to a suddenly active soundscape of birds, frogs and the drumming of the ruffed grouse. The first weekend of May in South River provides an exciting opportunity for nature-lovers, soundscape recordists and birders to enjoy the acoustic wonders of the spring season while learning about the art of soundscape recording.
Over the course of this weekend workshop participants will learn how to record, edit and mix natural soundscapes. On the last day they will be part of a team who will record a lakeside soundscape at dawn from multiple vantage points, and then afterwards, listen back to the recording at NAISA North Media Arts Centre on a multichannel audio system.
The general public is invited to join the workshop participants for special public events, such as the "soundscape dinner in the dark" for $20 on Saturday May 5 at 6 pm, and an artist talk on Friday May 4 at 7 pm (Free admisison) by South River nature recordist Glenn Hubert. Hubert is the producer and recordist of the Algonquin Park Wilderness series of CD's -
http://www.gmhCafe.ca/
For those not able to be in South River, you can celebrate International Dawn Chorus Day by tuning into a 24 hour soundscape stream starting at 6:00 am on May 5 from Warbler's Roost on NAISA Radio –
http://www.naisa.ca/naisa-radio/
- or a 24 hour cycle of Dawn Chorus sound camp streams from around the world starting at 12:01 am EST on May 5 -
http://www.soundtent.org/soundcamp_2018.html
Full Schedule:
May 4 - 7:00 to 9:00 pm – FREE - Artist Talk by Glenn Hubert at NAISA North Media Arts Centre
May 5 – 12:00 am – FREE - 24 hour stream of Dawn Choruses from around the world on Soundtent.org
May 5 – 6:00 am – FREE - 24 hour soundscape stream from Warbler's Roost on NAISA Radio
May 5 - 10:00 am to 5:00 pm - $100 - Soundscape Workshop at Warbler's Roost and NAISA North
May 5 – 6:00 to 8:00 pm – $20 - Soundscape Dinner in the Dark at NAISA North
May 6 - 6:00 am to 1:00 pm – Dawn Chorus Recording & Soundscape Workshop (continued)
Register here:
https://naisa.ca/education/register/