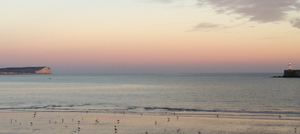 Newhaven Community Garden, The Living Coast
Newhaven Soundcamp
Latitude: +50.7859259°
Longitude: +0.0312083°
Growing Together Community Garden
on the cliff top just west of Castle Hill Nature Reserve on the South Downs UNESCO Biosphere,
The Living Coast
. The mic is located in an area of scrubland; a mix of birdsong, seascape and the distant industrial sounds of Newhaven Port
Soundcamp Newhaven is a small scale event for local residents to sleep outside and listen. It aims to act as a simple, potent point for ecological, social, intellectual, aesthetic or spiritual engagement with local and global acoustic environments.