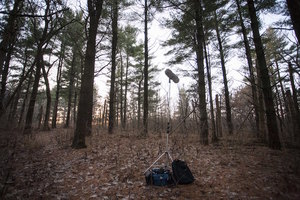 Jester Park, Iowa, USA - Reveil 2018 - J. Alex Cooney
Jester Park, 11407 Northwest Jester Park Drive, Granger, IA 50109
Alex Cooney
Latitude: +41.7822614°
Longitude: -93.7863073°
Mobile live stream from Jester Park, just north of Des Moines, Iowa, USA.
Jester Park is located on the western shore of Saylorville Lake in Iowa, and is part of the Polk County Conservation network of county parks.

Hoping to capture what I experienced while camping here in spring 2016 - one of the most spectacular dawn choruses I have ever heard. A large collection of birds and waterfowl as well as some sounds from nearby farms. There is the occasional boat or truck that passes by, but at a distance.