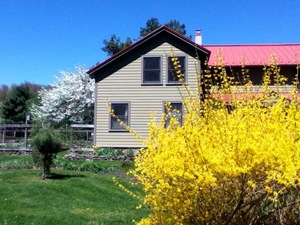 Galilee, Pennsylvania, USA
G.H. Hovagimyan with Locus Sonus
Latitude: ++41°44'07.6"N °
Longitude: -75°08'26.4"W°
Streamer: G.H. Hovagimyan with Locus Sonus
http://locusonus.org/soundmap/051/
'The microphone is in my barn/studio actually put through the wall and picking up the sounds outside.


'This is in the upper Delaware River Basin in the Appalachian Plateau.


'The surrounding area is an 1840's farm village that is largely untouched and old time Pennsylvania. Galilee is a crossroads with a closed down general store and a couple of houses. The old methodist church up the road has been bought by a gay couple and has been renovated into a deluxe space. There are a number of New York artists who have second homes here.


'You will hear cars passing by, and the wind in the trees. Galilee is actually in a bowl formation with ridge all the way around it. There are numerous species you will hear. The birds are chickadees, robins, woodpeckers, blue jays, hawks, grackles, sparrows, turkeys, bob whites, finches, cardinals, blue birds etc.. Also around are fox, bear, deer, lynx, ground hogs etc'.