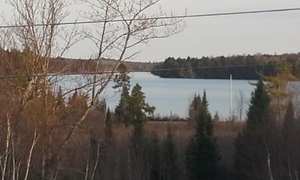 Warbler's Roost - 2 am to 5 am - May 2 2015 - New Adventures in Sound Art
Warbler's Roost, Lount Township, South River, Ontario, Canada
New Adventures in Sound Art
Latitude: +45.823330°
Longitude: -79.581205°
New Adventures in Sound Art presents a 24 hour live stream on
NAISA Radio
from the rural environment of
Warbler's Roost
Country Inn, which is located 22 KM west of the town of South River, Ontario, Canada. The stream is managed by Darren Copeland and a team of local sound artists.
For a hearing person, listening never stops. No matter the task at hand, the state of mind, or the condition of hearing. The soundscape also never stops. When you listen to the soundscape, you make a series of unconscious choices. There are sounds you choose to listen to and others you choose to ignore. These choices change your perception of the environment, and in a sense, allow you to create your own composition based on which sounds you have chosen to focus on.


We are sharing this rural soundscape for 24 hours in order to provide you with a palette of sounds from which you can compose your own soundscape composition based on the rich acoustic environment of
Warbler's Roost
.
On May 1 from midnight to midnight local time, the soundscape at Warbler's Roost will be in the midst of the transition of Springtime. The calm silence of winter will have slipped into memory and the snow nearly gone. The birds are organizing themselves with different species moving in and moving on. A roughed grouse - or drumming partridge - may interject with its sub-audio beats. Ravens may help to articulate the spatial topography with their calls. Squirrels, rabbits, and chipmunks may be rummaging through the woods. The humans will only provide occasional interjections – the odd car or ATV might be heard from a distance, or the Toronto-North Bay flight might pass by overhead a couple of times. But then again, it could rain … which will change everything.
In a soundscape free of urban hum, we look forward to sharing the soundscape of Warbler's Roost - through participating in SoundCamp/Reveil - with listeners around the world. NAISA would like to thank it's team of recordists who live in the local area and are familiar with the characteristics of the local soundscape.


It is your piece because you are listening to it – enjoy.