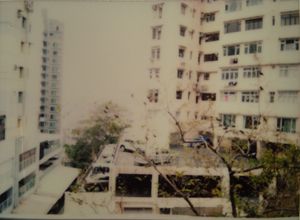 Kwun Tong
Au Wing Yan, Step
Latitude: ++22.20°
Longitude: ++114.15°
Au at
soundcloud
sounds of birds, bugs, wind, first minibus service & human activities
'The night I wake up around 4am, sitting on a classic chair right next to the side window and turning on my computer on a usual dining table. I stand up and unlock the window in order to let fresh air and raindrops together go in and back to my original position afterwards. The Internet is connected by WiFi unstably during the recording on Mixlr.


'I was worried about what I would expect to hear on this rainy night. Birds appear a bit late with heavy raindrops at the beginning then more and more visitors come and go with the pitter-patter rain. Sometimes raindrops gently hit the edge of the side window and slightly splash on the computer or even my face.


'The recording is of things-get-wet (e.g. car, roads, buildings, trees, birds, soil), water crashing or bathing in the natural environment with repeated Internet connection lost on earth'.


AS - Reveil 2014