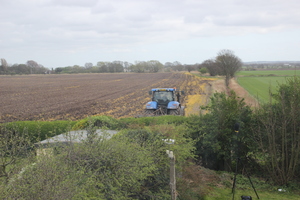 ormskirk - alan bowness
Ormskirk, Lancashire, UK
Alan Bowness
Latitude: +53.5693158°
Longitude: +2.8753524°
Binaural relay from garden on the edge of agricultural land


Suburb of Liverpool, near Ormskirk in Lancashire.

Probably the first live binaural stream on the internet. Headphones are required to experience the binaural effect.


'Operator: Frank the binaural dummy head - with 3D printed ears of my own ears, he hears everything like a human does, so when played back through headphones gives the listener a interesting sound experience of being there, with sounds external from your bonce. Great eh?


'Cirrus Logic audio card working on a Raspberry Pi.


'Have birds flying past above your head and singing in close proximity (can be loud) hear the dogs barking from the dog walk, trains coming and going to and from the station every 15 minutes during the day, church bells can be heard on bell ringing practice nights depending on which way the wind is going from both Aughton Christ Church, and Aughton St Michaels (7.30pm - 8.30pm UK Summer time) - Monday evenings. Police helicopter fly past about 11am most days - but don't count on it! trains every 15 minutes during the day. About 8am there is a neigbour who has a bad time trying to start their car - 5 days a week!! ughh! As a rule, there is a traffic drone from the M58 Motorway a few miles away, pity, as there is so much wild life in my garden.


'During the day there is our local bus service which runs every 10 mins after hour - or there about.


'We have a local park which is quite close, and on Sunday mornings you may hear the locals playing football, and doing other things. Some Saturdays you may hear the sounds of motorcycles in the distance, racing at Aintree race course - yeah, the place where they have the horse races (they have a special track there), when it thunders here, the sounds are reflected from winter hill and the mountains in North Wales - can be quite an interesting effect!


'Thank you for transporting your head to my back garden, I hope you enjoyed the experience :)