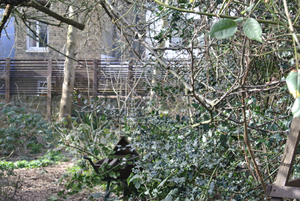 Cambria Rd London, Reveil 2015 - Grant Smith
Camberwell, S London, UK
Grant Smith
Latitude: +51.5053979°
Longitude: -0.2405403°
The microphone hangs in a tree in the back yard of a house in South London.


Original Raspbery Pi B mono installation with Icicle soundcard and Superlux ECM999 measurement microphone using a
soundCamp
disk image developed in collaboration with Locus Sonus, Udo Noll, Max Baraitser and others.
The yard is a small patch of trees and vegetation surrounded by buildings and roads. There is a chicken run and a beehive.


Planes fly over on the way to Heathrow International Airport, starting around 4 in the morning.


Sounds from chickens, nearby schoolyard at recess, the Cambria Pub, adjoining houses and backyards, a neighbour playing drums in his shed. Traffic. Wrens, woodpigeons, goldfinches, starlings, blackbirds, morning and evening, especially in Spring. Sirens. Helicopters. Planes. Domestic sounds.


A graph showing sound levels from the overflight of aircraft on the approach to Heathrow International Airport is available from the
soundmap
in collaboration with Christian Nold.