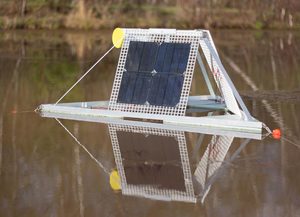 Acra, New York, USA
Zach Poff at Wave Farm
Latitude: +42.3109336°
Longitude: -74.0641888°
For Reveil 2016, Wave Farm's soundscape contribution will feature Zach Poff's "Pond Station." Newly updated spring 2016, "Pond Station" transmits the hidden activity within this freshwater pond. During daylight hours, the underwater sounds of plants and insects are revealed by hydrophones. In the evening, insects are attracted to onboard lights. The reflections of their beating wings are transformed into sound, mixing with the underwater signal until the station shuts down for the night.
The sound transmitted is broadcast to local listeners on Wave Farm Radio 1620-AM and Wave Farm's WGXC 90.7-FM, as well as streamed online to international audiences. In addition, Pond Station serves as a live, generative, natural instrument for Wave Farm resident artists who may remix and interpret these otherwise inaccessible environmental sounds in their own work.
Pond Station is made possible, in part, with support from the Andy Warhol Foundation for the Visual Arts; the New York State Council on the Arts with the support of Governor Andrew Cuomo and the New York State Legislature; and the National Endowment for the Arts.
An intimate soundcamp will take place on Friday April 29/Saturday April 30. Participants will include friends of Wave Farm and their family members.
Wave Farm is a non-profit arts organisation that celebrates creative and community use of media and the airwaves. Our programs provide access to transmission technologies and support artists and organisations that engage with media as an art form. Located in the northern foothills of the Catskill Mountain Park, in New York's Upper Hudson Valley (USA), Wave Farm is situated on 29 retreat-like acres with meadows, ponds, mountain views, and forested walking paths. The Wave Farm Study Center serves as the facility for an international Residency Program focused on Transmission Arts, and includes a unique library of materials specific to the transmission art genre, as well as a broadcast studio for Wave Farm's WGXC 90.7-FM and Wave Farm Radio 1620-AM. More at
https://wavefarm.org/