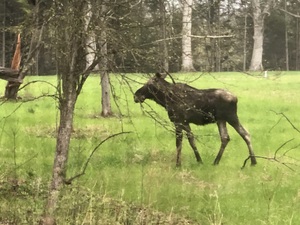 Manchester Center, Vermont, USA
Jonny Farrow
Latitude: +43.1854744°
Longitude: -73.0473106°
Jonny Farrow is an artist working with sound as a poetics across many mediums. This year's soundcamp is 12 hours of streaming from my backyard, which is filled with large old cedar trees, colorful finches and many other spring birds. The stream will be mediated through vlp fm -- broadcasting from the camp to a radio to the internet.
Did I mention the moose? Well, just last eve, this grand creature made a visit. Not a bird, but maybe more wild than one. Quite tall, majestic, with the gait of a camel, but not fully grown. And thankfully not trailing offspring and feeling protective. We live close to a busy road, so this kind of sighting, while magical, also produces anxiety -- like, hey moose, don't go toward the road! Thankfully it did not and wandered back toward the woods again. I cannot remember the sound of the birds during this visit. Were they silent and in awe as I was? It was raining. Probably the usual sounds were all going on anyway. But interesting how sound and time can seem to freeze in the presence of a powerfully large beast. Hopefully this visitor or one of our ursine friends will avoid the camp in the middle of the night. I much prefer to be awakened by tiny feathered dinosaurs instead.

This stream will run from (at least) 10pm EDT on Friday 30 April through 10am EDT on Saturday 1 May.