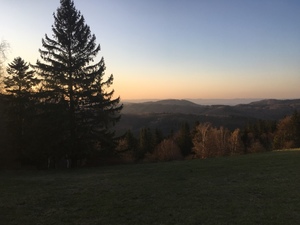 Rusava Dawn Chorus REVEIL 2020 - Tomáš Šenkyřík
Rusava, Moravia, Czech Republic
Tomáš Šenkyřík
Latitude: +49.342806°
Longitude: +17.685063°
Live streaming from old Wallachian village Rusava. Sounddscapes on the borders of forests and old meadow and an orchard.
Village Rusava is located in the Zlín region in the deep valley of the Rusava river in the northwestern part of the "Hostýnské vrchy" Nature Park.

The brook of the same name flows through the Rusava area, after which the village got its name. The name of the stream, in turn, is probably related to the designation of the local red, ie red clay, which colors the water to "Russian color" during rains.

Rusava is an area of ​​many rugged valleys, hills and meadows. There are many quiet places to listen to soundscapes. One of them is located in a part called Hrklávka. Just like last year, I will broadcast from this place. There used to be a meadow with an orchard in these places. Plums, apples and cherries were grown here. During the communist era, the meadow was divided into building plots. Several old fruit trees have remained here to this days. The meadow is surrounded by coniferous and deciduous forests. Two years ago, the forest on the south side of the meadow had to be cut down. This is the reason for bark beetle infestation of trees.

My live streaming will try to bring closer the magic of this old place. At the same time, it will try to document the soundscape of meadows and adjacent forests.