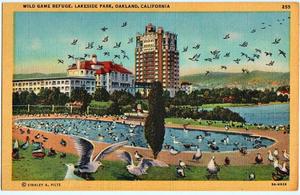 Joel Wanek-Bird Sanctuary, Lake Merritt, Oakland, USA
-Reveil 8 recording - Dawn Chorus 05/01/21
Lake Merritt, Oakland, California, USA
Joel Wanek
Latitude: +37.801239°
Longitude: -122.258301°
Filmmaker and field recordist Joel Wanek is broadcasting live from the Lake Merritt bird sanctuary - North America's first wildlife refuge - in the heart of downtown Oakland, California.
Lake Merritt is not actually a lake but a tidal slough that once ebbed and flowed freely. Located in the heart of downtown Oakland, California it is the main social space of the city. It is home to North America's first
wildlife refuge
. Even though the natural habitat and the surrounding wetlands have dwindled over 160 years of urbanization, over 150 different bird species still migrate to the "lake".
Joel Wanek is a filmmaker, field recordist, and educator based in Oakland. He is currently a Visiting Assistant Professor in the Department of Cinematic Arts at the University of Iowa. His monthly radio program
Here Is Where We Meet
weaves together field recordings and interviews conducted in and around the lake, exploring the area's unique diversity and biodiversity.