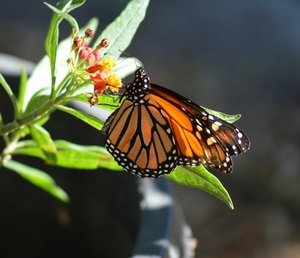 Eastern San Diego County, California USA
Saunie Holloway
Latitude: +32.843087°
Longitude: -116.976097°
You will be hearing the Dawn Chorus from my suburban backyard in Eastern San Diego County.
Birds and insects visit my organic and pesticide free plants and trees. I also have seed feeders and a bird bath where birds can obtain fresh water. I have many native Milkweed plants and Monarch butterflies lay their eggs on them.


Some of the birds you may hear include: Red-faced Parrots (wild), House finch, Lesser goldfinch, House sparrow, Hooded oriole, Mourning dove, Bewicks wren, California Towhee, Crow, Bluebird, Phoebe, and Woodpecker. You may also hear street noise, or aircraft from a nearby airport.