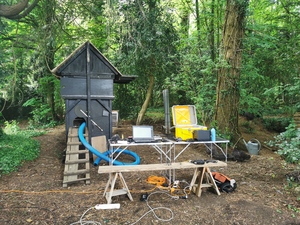 Dominique Leroy & Jean-Baptiste Masson-Chicken & co in Kerminy
kerminy
Dom Leroy
Latitude: +47.9590988159°
Longitude: -3.82825994492°
Kerminy, Rosporden - We will be 2/3 people installing 
microphones and sensors inside and near the chicken coop 
in Kerminy. The chicken coop is located on the edge of a 
large redwood forest and other large trees. We will 
connect our stream and play with our friends from 
Rural-Development.
Kerminy is a meeting place for artistic, research, theoretical and cultural production residencies. Situated in Rosporden, in the west of France, between Quimper, Concarneau and Pont Aven (South-Finistère Sud), Kerminy works autonomous and explores new possibilities for working practices.


An agricultural activity at the heart of the place is developed to the commitment of both permanent and temporary residents.


Around its manor house, its outbuildings, and the 12,5 hectares of meadows and woods, Kerminy develops ongoing discursive individual and collective autonomous practices, producing knowledge and exchanges in an experimental way.