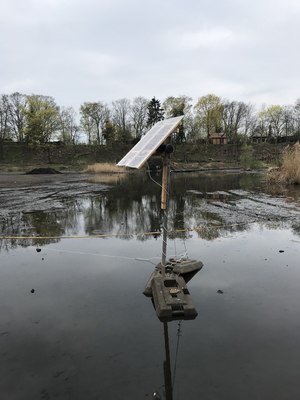 Floating University, Kreuzberg, Berlin, Germany
Archipel Stations Community Radio
Latitude: +52.484061°
Longitude: +13.405082°
Rain water retention basin from the former airport Tempelhof in the center of Berlin, which became a site for wilderness, arts, culture and learning.
In between the neighbourhoods of Kreuzberg, Neukölln and Tempelhof, the Floating University is an somewhat insalubrious oasis, where many species that circulate through the heart of Berlin find refuge. We hear different birds, bats, insects, bees, people visiting the space, people playing sports in the fields around... We also here some electromagnetic interference, in special a radar from the former airport still active and clicking every 9 seconds.
The Floating University is a natureculture learning site located at the water retention basin of the former Tempelhof airport. It is fostered by an association that supports different cultural, educational and ecological activities. It is a home for many species that have been taking over and negotiating the space since decades of peripheral placement in the urban landscape.
The stream box was "planted" in the context of the exhibition "Radio Gardening" and will stay permanently on the site, for as long as the Floating e.V. is granted permission by the city of Berlin to care for the space.