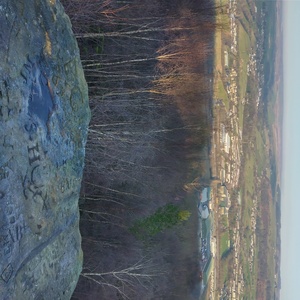 Bingley 1st May 2022 05:19am - Recording from Reveil
Bingley, West yorkshire, UK
David Carpenter, Hannah Lamb, Lukas Hornby, Nicola Storr
Latitude: +53.83626961579685°
Longitude: -1.8240982786731517°
Broadcasting via mobile phone close to the river Aire in Bingley.
NB:
The stream will only be live from
04:50 - 06:00 (BST) on Sunday 1st May
Hannah Lamb
is a textile artist, lecturer and author.
David Carpenter is a musician, songwriter and producer creating music as
The Argent Grub
.
Lukas Hornby
is a musician and sound artist.
Nicola Storr
is an illustrator
Wet weather has meant a change in plan so instead of broadcasting from Altar
Rock above the town, the live stream will come from a mobile phone situated near fields and a river near the town of Bingley. We anticipate sounds of nature and of the major trunk road that runs down the valley.
Hannah and David previously collaborated (with Lukas Hornby and Stu Bannister) on
Altered Lane
, a sound piece commissioned by the Outlands Network that used Altar Lane as the setting for an experimental group composition of haunted sound-geographies that used both un-treated and modified field recordings.
https://www.hannahlamb.co.uk/
https://theargentgrub.co.uk/
https://grst1.bandcamp.com/music
https://www.instagram.com/nicolourok/