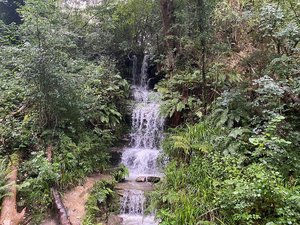 Old Roar Gill
Mary Hooper, Cheryl White, Lisa Clifford
Latitude: +50.8633159°
Longitude: +50.8633159°
Cheryl White, Lisa Clifford and Patricia Lochans gathered together in the dark before the dawn to do this stream, a first for all of us, so thankyou to Acoustic Commons for inviting us to this magical global event. We started at twilight and walked and recorded to sunrise on May 1st 2022 in Alexandra Park woodls ending at Old Roar for a breakfast of homemade muffins and coffee al fresco. Being in this cathedral of trees with the choirs of birds herading the dawn is very priviliged and memorable. We all live opposite to the park and use it every day. It has a wonderful mix of traditional and wild areas and was a lifeline to a community in lockdown. The Park is used as a place of recreation and sanctuary by a very diverse mix of people of all ages and is a lung running through that part of Hastings with an unrivalled collection of trees species.
I am an artist using sound as part of my work and here is a link to some of my work -
https://soundcloud.com/mary_2020?utm_source=clipboard&utm_medium=text&utm_campaign=social_sharing
Dawn streaming on May 1st at Old Roar Gill a deeply cut, narrow wooded valley running along the upper reaches of Alexandra Park. Spotted flycatchers, grey wagtails and kingfishers can be seen in the woods and open water at the upper end of the park.
The gill, like most gill woodlands in Hastings is rich in ferns, mosses and liverworts. In spring, the woods are carpeted in ancient woodland flowers such as bluebell, wood anemone and wood Avens. The scarce parasitic plant toothwort, is a feature of the gill and the park.
The dead wood lying in the stream and woodland floor supports many rare and scarce invertebrates including the endemic crane fly (Lipsothrix nervosa) and the nationally scarce door snail (Macrogastra rolphii).