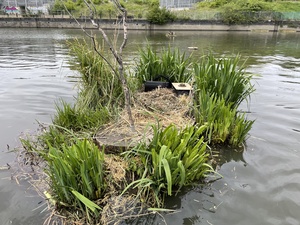 Channelsea Island
Stephen Shiell & Hannah White
Latitude: +51.5287476513713°
Longitude: +0.00010026848215368096°
A live stream from the Channelsea river, in Stratford, London.
The Channelsea river in Newham has a meandering past of industry and contamination and yet sustains a quiet backwater flow for many life forms, revealing it's secrets to those willing to explore. It's been culveted and infilled, it's flow now coming to an end just past Channelsea Island.

The streambox is initiated by artists Stephen Shiell and Hannah White, who are members of Surge Cooperative, and forms part of their ongoing research and collaboration with the cooperative on the Channelsea river and it's surroundings, exploring methodologies of care and restoration for the river and its inhabitants.

Surge Cooperative is working to rejuvenate the Channelsea, and the wider tidal River Lea, with cooperative moorings and community engagement, proposing common actions with those connected to the river or local to the area, and encouraging collective efforts to protect and celebrate its rich natural heritage.