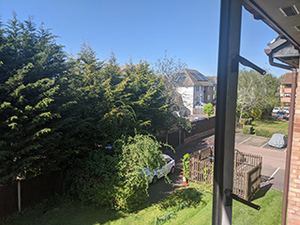 Dawn Chorus - May 2018 - Adam Bowie
Enfield, London, UK
Adam Bowie
Latitude: +51.6615°
Longitude: -0.0981467°
Rear window of 2nd floor flat, in urban suburbia, rear window - Enfield, North London
Microphone pointed out of the rear window of 2nd floor flat in suburban Enfield. Expect some sounds from nearby flats, distant traffic, some urban wildlife.

A Raspberry Pi 3 running Streambox, with a Creative Soundblaster X-Fi external soundcard. The microphones are a pair of Naiant X-X omnidirectional microphones separated at either end of a wire coathanger, and placed on the edge of my window-ledge.

Because of the setting, this microphone is only live during Reveil period.