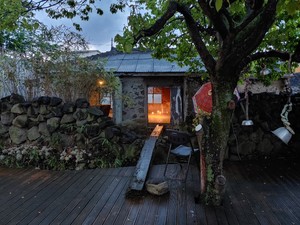 On Georo village and Jeju Sasam - Younjoo Kim
Culture Space Yang, Georo village, Jeju island
Weather Report(Jiyeon Kim, Gangil Yi)
Latitude: +33.5092262°
Longitude: +126.5596798°
Collaborative long-term streamer installation by Weather Report and Culture Space Yang.
http://locus.creacast.com:9001/jeju_georo.mp3
Hello.
Nice to meet you. I am Kim Younjoo and a curator of Culture Space Yang. It is my great pleasure to introduce Culture Space Yang, Georo village and Jeju Island.

The director of our Space is Kim Bumjin. Culture Space Yang was the house of Bumjin's mother's parents, which is a typical traditional house in Jeju. Jeju is the biggest Island and on the end of south sea of Korean Peninsula. Georo is the village where our space is located. It means a great old man. It has six hundred years old history.

Jeju has very beautiful nature but it has very bloody and tragic history. Many innocent Jeju people were sacrificed by the armed conflicts and suppression operations after the Armed Uprising of the Jeju Chapter of the South Korean Labor Party. We call the incident "Jeju Sasam", which had happened to be the third of April in nineteen forty-eight. 'Sa' means April and 'Sam' means third.
Many houses had been burned, and a lot of village had been disappeared until nineteen fifty-four.

All houses of Georo village also were burned. Many Georo people were killed by police and soldiers and the rest of the survivors had to ran away. Georo people could return to the hometown only after nineteen fifty-four. They could not find their house sites because everything was gone in the fire.

The Culture Space Yang focuses on the history of Georo village. We have been archiving Georo people's private memory during the historical turmoil including of Jeju Sasam with artists. We are sure their private memory is the history of Georo village itself.

Now the exhibition about the collective experience of Georo village's Sasam is holding at our space.

The Culture Space Yang runs exhibitions, and an artist residency, seminars, community projects and so on. For example, the weather report participated to the residency program of our space. The weather report is a team of Kim Jiyeon and Yi Gangil. They wanted to continue to deliver a sound of Georo village and displayed this streamer on a stone wall at our space in twenty eighteen. You can sometimes hear my voice to introduce an exhibition to visitors on the website of Locus Sonus.

I hope to meet you at Culture Space Yang someday soon. Thank you. Goodbye.