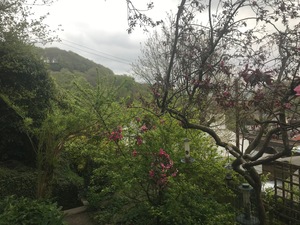 Todmorden, West Yorkshire
Jo Kennedy
Latitude: +53.728°
Longitude: -2.125°
Live stream of the dawn chorus on Saturday 2nd May from a garden in Todmorden, for Reveil 2020 International Dawn Chorus Day.
Streaming from a small garden in Lydgate on the outskirts of Todmorden, located at the top of the Calder Valley, in the South Pennines, West Yorkshire.

The garden is on a residential road which backs onto wooded slopes (mainly oak, beech and silver birch) with roughly grazed moorland above. The train line and main road to Burnley both pass close by. The general area is quite bird friendly with a range of vegetation and several houses (including this one) with well stocked bird feeders. Regular visitors include blackbirds, robins, tits, goldfinches, wrens, dunnocks, nuthatches, wood pigeons and chaffinches. In spring a song thrush comes to sing in the nearby Ivy bush, and chiff chaffs and a black cap can be heard close by. Jackdaws nest in the chimney tops.

The stream is coming from a Streambox originally supplied in kit form (including mic components) from Grant Smith, and assembled at home, connected to my home router with an ethernet cable, and powered by plug-in power. I built the EM172 double-omni mics from scratch - it was my first attempt and tricky soldering. One seems to have turned out ok, but the other has a lot of self-noise, so it's turned right down!