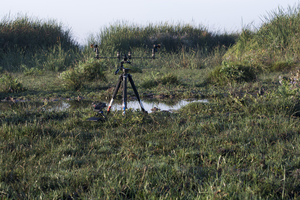 Churrete Acanelado - Buff-winged Cinclodes (Cinclodes fuscus) - Cristian Pinto (2019)
Pidén común - Plumbeous Rail (Pardirallus sanguinolentus) - Cristian Pinto (2017)
Tiuque - Chimango Caracara (Milvago chimango) - Cristian Pinto (2014)
Trabajador - Wren-like Rushbird (Phleocryptes melanops ) - Cristian Pinto (2017)
Trile - Yellow-winged Blackbird (Agelasticus thilius) - Cristian Pinto (2016)
Queltehue común - Southern Lapwing (Vanellus chilensis) - Cristian Pinto (2015)
Piuquén - Upland Goose (Chloephaga picta) - Cristian Pinto (2019)
Batuco Wetlands
Cristian Pinto
Latitude: -33.26257°
Longitude: -70.80111°
[Spanish] Cristian Pinto (1982) es ornitólogo, artista sonoro, músico y profesional (PMP) en la industria de las tecnologías de información y comunicaciones. En la actualidad está interesado en ciencia de los datos y su aplicación a la ecología del paisaje sonoro. Esta es su 5ta participación en la celebración global de los coros del amanecer desde Chile (Neotrópico) junto a Locus Sonus, Soundcamp & Reveil.
[English]
Cristian Pinto (1982) is ornithologist, sound artist, musician and an ITC professional (PMP), with a vast experience on infrastructure, cloud computing, IoT and Smart Cities. Nowadays is going deep on Data Science and his applications in bioacoustics and ecoacustics. This is his
5th
participation in the International Dawn Chorus Day from Chile (Neotropical region) with the support of Locus Sonus, Soundcamp & Reveil.


★
mail@cristianpinto.cl

★
http://www.cristianpinto.cl

★
https://linktr.ee/pintoi
[Spanish]
En esta oportunidad, Cristian Pinto montará un Soundcamp cerca de Batuco, parte de los humedales interiores del norte de Santiago de Chile. Pero esta aventura no es fácil, Chile se encuentra en un estricto confinamiento por la pandemia de COVID-19, y los ciudadanos de Santiago pueden salir solo dos veces por semana libremente, por lo que el soundcamp será una actividad privada con quórum de seguridad, y nos trasladaremos utilizando los debidos permisos de movimiento. La riqueza del paisaje sonoro otoñal de los humedales neotropicales en el norte de la ecorregión de la Patagonia es particularmente interesante con el proceso de aprendizaje de canciones de paseriformes como el Chercan Comun, el Trile y el ruidoso Trabajador. Otras aves regulares de los pantanos son los pidenes como el Piden comun, que gusta silbar como llamada de alarma, pero también cantan canciones complejas con sonidos asincrónicos guturales dentro de frases y sílabas de tonos altos. Otras aves magníficas son los Piuquenes, migrante invernal que descansan todos los años en las praderas del Batuco después de la temporada reproductiva en las tierras altas de los Andes, como también lo hace un pequeño furnárido llamado Churrete Acanelado que también prefiere este hábitat para quedarse en invierno. Como eventos antropofónicos, estaremos bajo las rutas de descenso de los aviones que aterrizan en el aeropuerto de Pudahuel, el aeropuerto principal de Chile, y a un poco mas de un kilómetro de una línea de tren, por lo que, si tenemos suerte, disfrutaremos de un increíble paisaje sonoro de amanecer.

No es inusual que, como todos los humedales del mundo, los humedales de Batuco se encuentren en alta presión por problemas antropogénicos como sobrepoblación, basura y sobredemanda de agua. Finalmente, la red de humedales está desapareciendo, y junto con ella algunas especies destacadas como los Pidencitos o la Becacina Pintada, que son difíciles de encontrar y están cerca de la extinción local.

[English]
In this opportunity, Cristian Pinto will set a
soundcamp
near marshes and sporadic water in Batuco, located in the Santiago's inland wetlands. But this adventure isn't easy, Chile is in an estrict confinment for COVID-19 pandemia, and Santiago's citizens can go outside only two times per week, so the soundcamp will be a private activity with a safety quorum and few participants, where we will move from the city to the country with all the government's movement permit. This is not a non-legal encounter. The richness of the autumn neotropical wetland
soundscape
in the north of Patagonia ecoregion is particularly interesting with song learning process of passerines like
House Wren
,
Yellow-winged Blackbirds
and the loudly
Wren-like Rushbird
. Other regular Marshs birds are neotropical rails like Plumbeous rail, who whistle as alarm call but also sing complex songs with asynchronus deep throat sounds within high pitchs phrases and syllabes. Another superb birds are the
Andean Geese
, winter migrant who rest every year in the Batuco's bogs after nest season over the Andes's Highlands, like a little furnarid called
Buff-winged Cinclodes
who also prefers this habitat stay in winter. As anthrophony events, the stream's location is under the
Airplane
's descent routes to Pudahuel's Airport, the main hub, and also near a
train
line, so if we have lucky we're going to enjoy an amazing dawn soundscape.
It's not unusual that like every wetland in the world, Batuco's Wetland are in high pressure for antropogenic issues like over population, litter, water demands and finally wetland's network are dissapering with h
them, some highlighted species like
Black Rail
or
South american Painted-Snipe
, whom are hard to find and near local extinction.
cristian pinto (2021)