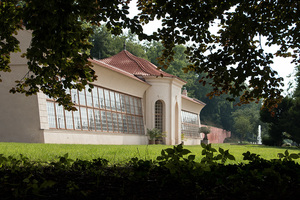 Entrance Gallery - Břevnov monastery garden, Prague, Czech Republic
Michal Kindernay
Latitude: +50.0862°
Longitude: +14.3566°
Broadcast from the rooftop of the Entrance Gallery located in Břevnov monastery garden.
Břevnov monastery garden is beautiful and important spot of green in Prague. The monastery was founded in 993 AD by Boleslav II and Bishop Adalbert. The Benedictine complex's current appearance, dating back to 1708 – 1745, is an example of High Baroque style.

You can check also radio Entrance. There are sound compositions thematically contextualizing or complementing Michal Kindernay's exhibition, which is currently in preparation.

https://soundcloud.com/entrancegallery

About the gallery: Entrance Gallery is the first artistic space in Prague that focuses systematically in its long-term program on the issues of ecological sustainability and care for the environment. We view this problem as socially urgent and very complex because it includes a wide spectrum of constituent topics and questions. This allows us to structure the gallery program to include the introduction of various artistic, theoretical, or practical attitudes and views.

https://entrancegallery.com/