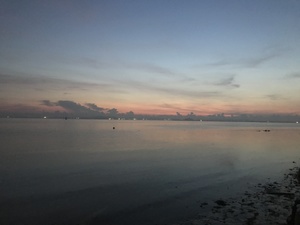 Songs from the White Jetty - Tini Aliman & Vivian Wang
White Jetty on East Coast Park, Singapore
Tini Aliman & Vivian Wang
Latitude: +1.29702°
Longitude: +103.90631°
The sound of dawn at the White Jetty on East Coast Park, a beach in Singapore.
Dawn Chorus from the east coast of Singapore. Singapore is an island and where we will be is the East Coast park which is also a beach area. It is an interesting area because of a fairly long stretch of beach and nature, the sea as well as the fact that we have plenty of container ships not so far from shore as we're the busiest port in this region.

Two microphones were used, one to capture the ambience above water, such as the shoreline, the sea waves, the morning birds, human activity, etc. And the other, a hydrophone, records the water just below the pier.