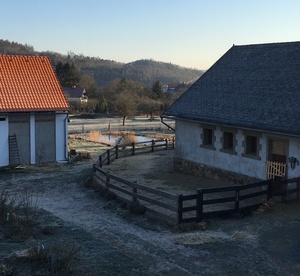 Skryje
Michal Kindernay
Latitude: +49.964990°
Longitude: +13.766570°
A small farmyard of an old house in Skryje, Central Bohemia.
The binaural microphone is located on the rooftop of a farm situated in the centre of Skryje – a small village in Křivoklátsko area. The characteristics of the sound are notably rural with a large variety of natural sounds including many birds - a rare White-tailed eagle nests on the rocks below the house in the valley, just above the Berounka river. The area around the village is protected and so a lot of unique species are present. You might also hear insects, cattle, dogs, horses and the sounds of a colorful village life. There is a strong dynamic contrast between daytime and nighttime sounds and a sense of sense of depth - in the foreground you will hear sounds of the farm and in the background sounds of the village and a valley in which a small river runs. In a sense this soundscape says a lot about rural areas in Czech Republic in general; areas which are rich in terms of natural sounds but often disturbed by the noise of traffic or agriculture machinery.

Operator Michal Kindernay is an intermedia artist, curator and performer. His audio-visual installations interconnect art, film, technology and science. He reflects on ecological issues through various technological approaches used in relation to natural environments. His works include video performances, interactive installations or experimental documentary projects and sound compositions. Sound ecology is often the starting point, a prerequisite for extensive forms of listening and perception of the complex natural environment.