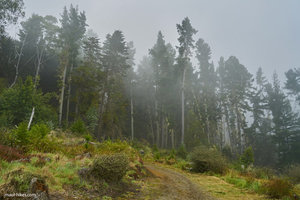 Polipoli Spring State Recreation Area
Martin Frye
Latitude: +20.701277°
Longitude: -156.310867°
We are listening to three endemic Hawaiian honeycreepers, in addition to many introduced species.
Polipoli Spring State Recreation Area has a surprising amount of native Hawaiian avifauna, considering that the forest is severely compromised with invasive trees such as Black Wattle (Acacia mearnsii), Monterey pine (Pinus radiata), and Coast redwood (Sequoia sempervirens). There are patches of native trees and shrubs, and hopefully I will be able to navigate to some, as they are hotspots for native birds.

The native passerines:
'Apapane -- Himatione sanguinea
'I'iwi -- Vestiaria coccinea
Hawai'i 'Amakihi -- Hemignathus virens

There are also numerous introduced bird species, such as Japanese bush warbler, Northern cardinal, and House finch

It is often windy in this location.