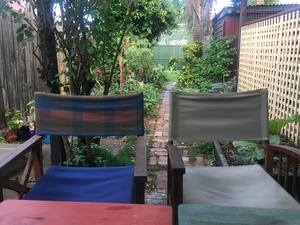 Sunrise after overnight rain, Sunday April 26th 2020
Footscray, Victoria, Australia
Bec Fary
Latitude: -37.796716°
Longitude: +144.904034°
Footscray is six kilometres West of Melbourne's CBD and is home to a compelling proximity of environmental, industrial and domestic sounds. The suburb has rapidly gentrified in recent years, with high-rise apartment buildings now peppering an area that has historically housed industrial zones. Waves of migration have shaped the area's communities and cultures, and alongside its dense human population are various more-than-human residents (including those living in the Maribyrnong River waterway and nearby wetlands).

From the lush backyard of my weathered sharehouse, I can hear the consistent passing of cars and trucks from our busy street, distant construction sites, sporadic birdsong, my neighbours' chatter from their garden and the steady thrum of indoor machinery.

These sounds originate on stolen Aboriginal land, which belongs to the Woi Wurrung and Boonwurrung peoples of the Eastern Kulin Nation. I pay my sincere respects to Elders of the Kulin Nation, past, present and emerging, and to the Traditional Owners and Elders of the lands these sounds reach.