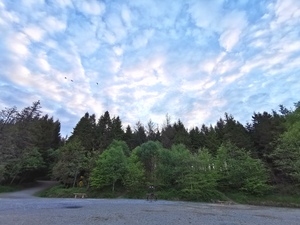 Cratloe Woods_1_Reveil2020 - Greg McNamara
Cratloe Woods_2_Reveil2020 - Greg McNamara
Cratloe Woods_3_Reveil2020 - Greg McNamara
Cratloe Woods, Brickhill East, Co. Clare
Greg McNamara
Latitude: +52.706860°
Longitude: -8.756372°
Reveil 2020 Dawn Chorus, stereo recordings of Cratloe Woods, Ireland.

Greg McNamara, a environmental sound recordist, capturing varying soundscapes on the island of Ireland.

www.twitter.com/gmnrec
www.instagram.com/gregmacconmara/
www.soundcloud.com/gmnrecordings
The area where recording took place, Cratloe Forest Recreation Area, known locally as Cratloe Woods. 13km east of the woods is Limerick City, population approx. 95,000, with approx. 162,000 in the greater metropolitan area, & the same distance west is Shannon Airport, the international airport of the region, & south, just 1.25km away, the motorway that connects both. With both local traffic & air traffic drastically reduced, a unique opportunity existed to capture the dawn chorus, with environmental noise pollution.

The recording space is an open flat area, facing woodland, with a lake behind recording position. My aim was to capture the optimal woodland sound, while avoiding possible noise from the nearby motorway. With the presence of the lake, not only was there the natural forest birdlife, but mallard duck & moorhen were present, & can be heard in the recordings. The moorhen especially, were quiet vocal at times.

Not long into the beginning of recording, an older couple who i assume, knew of the place for it's amazing dawn chorus, came into the space & sat together, & listened. I did not let them know i was recording, as not to interfere with their experience, so at times some background noise can be heard. I was truly taken away with the natural woodland soundscape of the dawn chorus, & the accompanying visual with the rising of the sun, just furthered the experience. Just wonderful..

** ** ** **
I like to explore the different soundscapes i encounter, & capture the different elements that intrigue, while attempting to allow the recordings to bring one into that existing space..

Previous Bursary work:

'Kerry's Oceans', a series of environmental location recordings (stereo) of the beaches of County Kerry, Ireland, bringing you in turn to each beach, to take in the incredible sound of the Atlantic Ocean..


These recordings were made possible by the awarding of the Creative Work Development Bursary 2019, kindly supported by the Kerry Co. Arts Office, Kerry County Council..


www.soundcloud.com/gmnrecordings/sets/kerrys-oceans