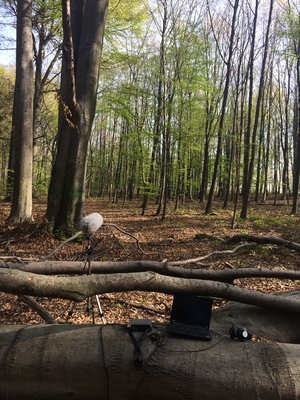 Segiet - 24/04/2020 morning stream (6:15 - 8:33) - Tomasz Pizio
Segiet Nature Reserve, Bytom, Poland
Tomasz Pizio
Latitude: +50.4053897°
Longitude: +18.8504640°
"Segiet" Nature Reserve, Bytom. In the middle od the woods, next to a fallen beech tree.
Segiet is a Nature Reserve created in 1953 and made part of Natura2000 in 2007.

Back in XIII century calamine, galena and silver were mined here which left behind numerous remains of opencase mining shafts. Now it consist in big part of european beeches, some of them around 150 years old.
The woods are pretty far away from any roads but on days with no wind the highway and some roads in the distance are heard.

The immediate surrounding is home to many birds. Amongst them there are: great tit, black woodpecker, great spotted woodpecker, grey-headed woodpecker, lesser spotted woodpecker, hawfinch, eurasian blackcap, common blackbird, eurasian nuthatch, common raven, common chaffinch, european robin, stock dove, wood warbler, common buzzard and tawny owl.

The stream is prepared using a smartphone-created hotspot, a laptop, Zoom F4 recorder set-up as audio interface and Audio Technica BP4025 microphone.