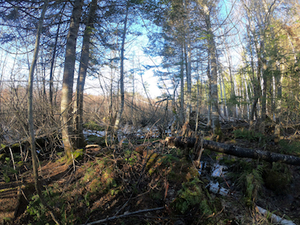 20190529:0417 with Birds, Loon, Treefrog and Peepers - Darren Copeland
Warbler's Roost South River
Darren Copeland
Latitude: +45.8234027°
Longitude: -79.5833777°
Open Microphone of rural soundscape at Warbler's Roost, which is located 22 KM west of the village of South River, Ontario, Canada.
Open microphone stream is operated by Darren Copeland for his project The Absent Listener, which is supported with funding from the Canada Council for the Arts. See http://www.darrencopeland.net/web2/?page_id=543 for progress reports and more information.

Technical setup - Stereo Pair of DPA 4060 lav mics going to Sound Devices Mix-Pre 6 and Toughbook CF31 laptop running Reaper and ShoutVST plugin. Internet connected through WIFI or ethernet to rural Satellite internet.