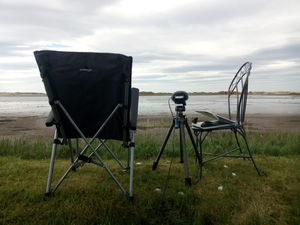 Ravenglass Estuary
RL Wilson
Latitude: +54.3563°°
Longitude: -3.4058°
On the estuary.

PD set up via Zoom H4n and Sennheiser mic.
The low-laying fells leading to the coast of Cumbria hold a unique setting for wildlife and soundscapes.

The Ravenglass estuary is an acoustically diverse and transformative area equally remote yet accessible to all, and holding potential for a majestic array of sounds- twenty four hours a day. Sheltered from the sea by Drigg Dunes, and with the three rivers of Esk, Irt, and Mite meeting- enabling wildlife, both migratory and land-locked, equal room for maneuver.


RL Wilson is a multidisciplinary artist working with and combining- moving image, sound, performance, and the written word.