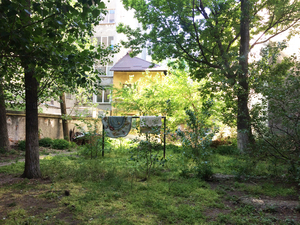 Cișmigiu Garden, Bucharest, Romania
Anamaria Pravicencu
Latitude: +44.438684°
Longitude: +26.092671°
Live streaming for the Dawn Chorus Day from a backyard in the border of Cișmigiu Garden in the center of Bucharest. A proposition by Anamaria Pravicencu, sound artist and curator of
www.semisilent.ro
portfolio.
Situated in the heart of the city, Grădina Cișmigiu (Cișmigiu Garden) is the oldest public garden of Bucharest (built in the first half of the 19th century), with a surface of 16ha, mixing local and exotic vegetation. 30.000 trees were brought from the Romanian mountains and the exotic plants were imported from the Vienna's Botanical Garden. The swamp in the middle was transformed into an artificial lake crossed by two decorative bridges. The initial design was made by the German landscape architect Carl Meyer, living in Bucharest at the time. Later, it was modified by different landscapers, but the main frame was kept intact.

Over a year, in the park are 55 species of birds and their total number can attend hundreds of thousands.

The park is now closed for the public due to coronavirus lockdown, therefore the microphones are placed in a adjacent backyard, oriented towards the garden.