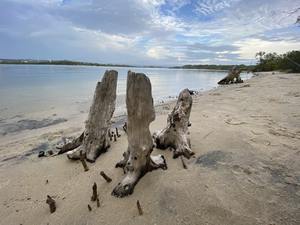 Maroochy River
Arts Front / Leah Barclay
Latitude: +153.088087°
Longitude: -26.643049,°
Looking at the surface of a river, it is virtually impossible to detect environmental changes. The impacts of climate change are often visible in terrestrial environments, yet dramatic changes in aquatic ecosystems can go unnoticed simply due to visibility. Listening to hydrophones (underwater microphones) provides access to a non-invasive way of understanding changing aquatic ecosystems.

River Listening is an interdisciplinary project exploring the possibilities of sound in the conservation and management of global river systems. The project works at the intersection of art and science by investigating the cultural and biological diversity of freshwater ecosystems through real-time listening and underwater recording used for biodiversity monitoring and public engagement. The resulting database of hydrophone recordings is used for ongoing scientific research and diverse creative projects disseminated worldwide. The artistic outcomes from River Listening are central to our public engagement efforts and include mobile phone applications with augmented reality audio, GPS trigged soundscapes and live streaming hydrophone arrays.

The 2020 Maroochy River stream is hosted by Arts Front. Arts Front is a four-year arts sector visioning project (2017–2020) being led by Feral Arts in Australia. It connects all artforms and supports all parts of the Australian arts and cultural sector to identify and act on issues that affect all of us.

Arts Front aims to unlock the incredible potential of a conscious, connected and collaborative arts sector in creating a more just, equitable, sustainable and inclusive Australia – and a better world.