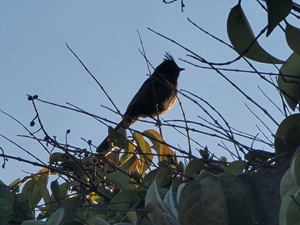 Eastern San Diego County, California USA
Saunie Holloway
Latitude: +32.80358373947091°
Longitude: -116.95729202023465°
I am very pleased to be broadcasting my Dawn Chorus for the third year with the Reveil project.
Listen as dawn breaks on my tiny garden in the suburbs of East County San Diego, USA. I grow milkweed and native nectar plants for butterflies, and provide fresh water for birds.
Frequent avian visitors to my garden are Finch, Sparrow, Hooded oriole, Bewicks wren, Coopers hawk, Crow, Hummingbird, Bluebird, Kingbird, Phoebe and the occasional Scrub-jay and Mockingbird. You may also hear the street noise of the nearby highway and sounds of the suburbs.

The bird shown on my page here is a Phainopepla that showed up one evening this spring during migration.