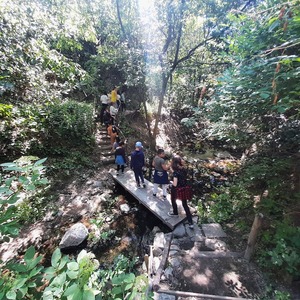 Jardin de la Cascade - Aygalades River, La Cité des Arts de la Rue, North Marseille, France
Charlie Fox - Gammares Collectif
Latitude: +43.33640670776367°
Longitude: +5.367489337921143°
A light livestream sharing the sounds and life on the River Aygalades, North Marseilles' principle river. With the support of the Gammares Collectif and Hotel du Nord.
The 17 km river is currently almost dry but at the Jardin de la Cascade water arrives percolating through the schist and tuff, feeding the waterfall pool. Despite the human detritus and waste this pool provides a haven to frogs, toads, fish and a remarkable variety of small beasts and invertebrates. Despite the contamination, pollution and neglect a recent survey of the river confirmed that 27 eels were returning to the rivers water via the port of Marseille.
This listening will catch the bird life, amphibians and sounds of the varied vegetation as Marseille awakes for another long dry day; making the river even more significant as a green corridor of life through a city cut up and dissected by the sounds of autoroute rivers.
The stream Caravelle-Aygalades is currently taken care of by the Collective Gammares - through their activities and tireless work the river has found its voice. Every month the collective hosts a conference, events and performances as part of Sunday programme at La Cité des Arts de la Rue. Recently the river has been officially adopted and there are plans to renaturise parts of this city stream.
See:
https://bureaudesguides-gr2013.fr/collectif-des-gammares/
Gammares Newsletter
Gammares Facebook
Hotel du Nord