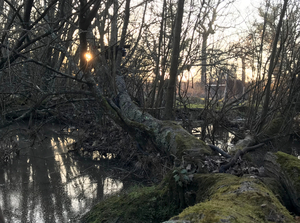 Knepp Wilding
Alice Eldridge, Soundcamp, Knepp Estate
Latitude: +50.967786524947584°
Longitude: -0.3868020755196122°
Knepp Estate - beaver introduction site. Wilding project.


wilding.radio is an experiment in long term, live transmission of the sounds of ecosystem regeneration. For more information please see: http://wilding.radio/index.html

The wilding.radio project creates solar-powered, hi-fidelity environmental radio stations at sites of ecological regeneration.

We transmit these soundscapes live, so that anyone, anywhere can tune in to the sounds of wilding. We also archive the soundscape recordings for artistic and scientific research.

Sometimes the live audio stream is affected by bad weather or interruptions from curious creatures, but most of the time you can tune in to the sounds of wilding 24 hrs a day 7 days a week.