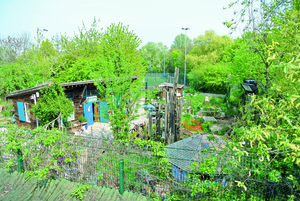 Stave Hill Ecological Park, Rotherhithe
Soundcamp, SHEP/TCV
Latitude: +51.502357753476474°
Longitude: -0.04017738017884742°
Soundcamp are an arts cooperative based at Stave Hill Ecological Park in Rotherhithe. We work on transmission ecologies from DIY broadcasting devices to public sound and radio projects. As part of the Acoustic Commons network, we coordinate the long-form radio broadcast Reveil (2014—), and a series of sound and ecology events (soundcamps) on Dawn Chorus day each year.
Operated by Soundcamp with support from TCV, Southwark Neighbourhoods Fund Arts Council England and Creative Europe
A long-term live stream from a vegetated lean-to roof in Rotherhithe, South London, relays a dense and varied overlay of sounds from omnidirectional stereo microphones. The streaming device enables 'flat remote listening' which brings the topologies of places together in unexpected ways.
Stave Hill Ecological Park was created in 1986 from rubble infill into abandoned wet docks. It is the successor to the William Curtis Ecological Park, the UK's first urban ecology park, set up in 1977 near Tower Bridge by the Trust for Urban Ecology. It has been managed for over 30 years by Rebeka Clark, (TRUE) and the Trust for Conservation Volunteers (TCV). Since 2014, it has hosted the annual Soundcamp festival of art and ecology. It acquired 'local nature reserve' status in 2017.
Co-created by human and non human agencies, the site has become a biodiversity hotspot and a key transit point for migrating birds and other organisms. It sits amidst a rapidly developing zone with significantly increasing population and building densities. Overhead, air traffic from Heathrow, City Airport and helicopter flyways along the Thames intersect with sounds of bees, hoverflies and stridulating insects. People can often be heard playing ball games at the adjoining Bacon's College. Visitors walk past on the Park's meandering paths, and volunteers carry out constant management and adjustments to the site's mosaic of micro habitats. Bird song in Spring is intense, with the arrival of migrants from Southern Europe and Sub Saharan Africa, combining with the songs of resident species. Unusual sounds include Great spotted woodpeckers drumming on steel poles, seemingly a local innovation. At night, close-up sounds are reduced, so we hear the surface of the ponds in the middle distance, articulated by moorhen 'pips', and the drone of road, rail and air traffic further off.