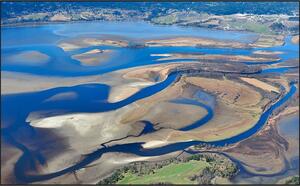 Nordre Øyern nature reserve, Norway
Siri Austeen, Reality-based Audio Workshop group
Latitude: +59.883117558176124°
Longitude: +11.159038555804631°
The nature reserve, situated 30 km. from Oslo, is the Nordic region's largest inland delta with the river delta areas in connection with Glomma, Leira and Nitelva's outlet.The area has some importance as a nesting area, but is of greatest importance to bird life as a resting place during the spring and autumn migrations.
For Dawn Chorus Day 2023 a group of artists from the Reality-based Audio Workshop group will join with streams from locations in various parts of Norway and coastal California.


Reality-based Audio Workshop is a meeting of artists from Norway and internationally, attempting to re-think the relationship between sound and reality in our time. The artists all use field recording of audio as a core of their artistic activities, and approach a chosen site with various advanced or experimental recording technologies. They have previously used collaboratively improvising with and mixing recordings into a sound work as a working method. Thematic focus has so far been centered around various forms of energy and their land use, both historical and future ones. The project was initiated by BEK, Bergen Centre for Electronic Arts in collaboration with Ernst Karel from the Harvard Sensory Ethnography Lab.